Bourne Computer Store offers Retail Customers an unrivalled range of products and support from our Shop in Crown Walk, Bourne.
Owned and Managed by myself, Ray Crane. I worked for the Tandem Group for over 20 years and have a passion for helping people and solving problems, I'm dedicated to supporting my clients and I was nominated for the 'Best In Bourne' competition in recognition of helpful attitude to my clients, of which I am very proud.
When the opportunity arose to take over this business from Tandem, and continue the good work I was very pleased to be able to do it.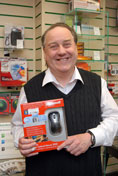 Ray Crane, Owner (Bourne Computer Store)
Opening Hours:
Monday - Closed
Tuesday - 9:30am - 5pm
Wednesday - 9:30am - 5pm
Thursday - 9:30am - 5pm
Friday - 9:30am - 5pm
Saturday* - 9:30am - 2pm

Lunch break taken daily between 1pm - 2pm
* I often close early on Saturdays for deliveries and installations, phone first to avoid disappointment.